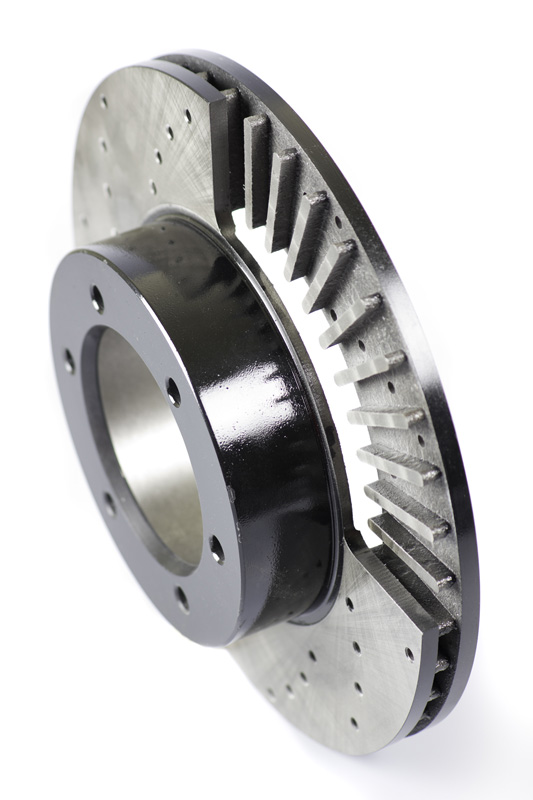 BRAKE DISCS TM HORT - this is one of the main elements of the brake system. They are designed to ensure safe vehicle speed reduction. They provide a friction surface for brake pads: when braking pads are pressed against the disc and due to the friction force to stop its rotation. BRAKE DISCS TM "HORT" for cars and vans are presented in several categories:
- Standard brake discs HORT for the front and rear axle. These discs with the largest braking area have maximum structural integrity which in most cases makes it possible to avoid cracking during emergency braking: ventilated - made of two plates, between which there are cooling cavities; unventilated - consist of a solid plate.
- HORT brake discs of the TUNING series (with notches and perforations) ensure reliable cooling of the disc during overloading due to perforation, preventing discs and pads from overheating, and increasing their service life. Notches on the discs provide the release of dust and gas that occurs between the disc and the brake pad as a result of friction during reusable emergency braking. Also, they serve to divert water. All this provides the block with a large area of clutch disc and a high coefficient of friction, which allows you to confidently stop the car. These wheels are suitable for cars that are experiencing overload or with a large mass, which is very important for commercial vehicles. The disc that is better cooled (perforated) is combined with the one that maintains a clean contact surface with the brake pad (notched disc). The HORT brake discs of the TUNING series provide additional protection, safety and durability.

BRAKE DRUMS TM HORT - is a type of brake system consisting of a rotating drum in which braking is achieved by pressing the brake pads against its plane. The brake drum is a low hollow cylinder attached to a bridge, in which brake pads rest against stopping the wheels. In the process of production of brake drums HORT used castings G3000 with an index of hardness 187-240HB. Balancing accuracy is: 800 gm.

Features of production and advantages:
- Construction and technical documentation is developed using the CAD-CAM software. All brake discs and drums TM HORT are multilevel quality control on equipment Carl-Zeiss (Germany), which allows you to guarantee your safety and comfort.
- 100% disk balancing. The result: no vibration and low noise.
- Resistant to extreme temperatures and warping. By production, vermicular graphite is used, which gives the disc a special temperature stability.
- Each drum is additionally processed with a special anti-corrosion compound.
- Ultrasonic control of hidden defects in castings.