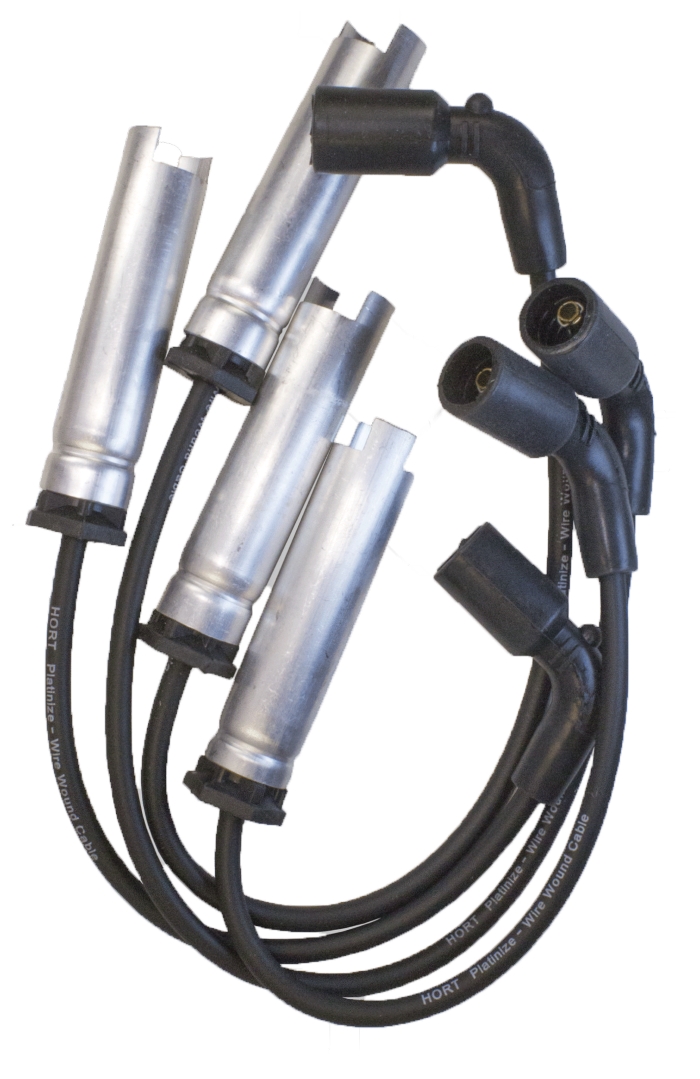 High-voltage leads of the ignition system TM "HORT" are designed to transfer electrical impulses from the module or ignition coil to the spark plugs, and also perform the function of suppression of electromagnetic interference, which cause malfunction in the electronic systems of modern cars. The ignition leads consist of conductive cores with insulation, metal contacts and protective caps. Features of leads TM "HORT":
High-voltage leads are produced in three series:
In the «High performance» leads, the dielectric insulation layer is made of a synthetic material and the carbon conductor core is reinforced with a Kevlar reinforcing thread impregnated with graphite.
In the Silicon series, the lead consists of two insulating layers made of silicone-containing materials, including a high-tech braid to protect the conductor from damage, and a carbon conductive core with a Kevlar reinforcing thread impregnated with graphite. Contact tips made of copper-brass alloy ensure a quality connection of the ignition system components and are not subject to oxidation.
In the Platinize series, the conductor is made of Kevlar Core coated with ferro layered sheath, a stainless steel lead wound on a core spirally wound 50 turns per 1 cm of lead length, which provides an optimum resistance of 5.6 kOm / m. The insulation of the current-carrying vein consists of two layers of silicone-containing materials, between which is a reinforcing braid of synthetic fibers.
The contacts of all the leads are made of copper alloy and have a double groove for securely fixing the tips of the leads on the spark plug. Caps are made of rubber with improved insulating properties, which does not lose elasticity both at low and high temperatures.
The advantages of high-voltage leads TM "HORT":
Ensure the engine works in all weather;
The working properties of the leads are preserved in a wide temperature range from -40°С to + 250°C;
Insulation of leads prevents the influence of the highly aggressive environment of the engine compartment - the effects of water, salt, oil, gasoline;
Do not create a radio interference;
The electric pulse is transmitted to the spark plugs without losing its power, which allows to reduce fuel consumption by improving the combustion of the mixture in the engine cylinders.